Making the difference
IMDBOND
embodies the fusion of Imdbond and Intrabond Capital, representing a force of change. With unwavering vision, unwavering commitment, unwavering purpose, and the power of our human capital, we empower companies to navigate their path based on solid evidence and execute strategies and business models with precision on behalf of boards and management. Our innovative leadership constructs thriving business ecosystems that propel us on an enduring, borderless journey with our customers. We don't just cater to the needs of large enterprises with exceptional value propositions; we also stand shoulder-to-shoulder with smaller organizations and institutions, intimately familiar with the challenges and triumphs of strategy execution. Allow us to share a glimpse of our client work, exemplifying our interconnectedness with government, industries, and academic institutions. Experience our synergy with telecommunications, IT platforms, ecosystems, and cutting-edge technologies. Witness our collaboration with banking, capital markets, and real estate. Together, we empower and pave the way for transformation, unleashing the potential. Our passion for making a difference drives us forward, uniting disparate realms into a harmonious symphony of progress. Join us on this extraordinary journey towards boundless growth and unprecedented success.

ABN AMRO BANK, THE FUTURE GENERATIONS BOARD (FGB)
Prof. Rodria Laline @ 2023 FGB founding and on-boarding program
Sustainability at the heart of strategy
The financial sector - read ABN AMRO Bank - can play a key role in accelerating the growth of ESG and sustainable impact investing. The financial sector can inspire the next generation by becoming a good steward leader. By providing access to capital, incorporating ESG criteria in investment decisions, offering ESG-themed investment products, raising awareness and education, advocating for policy change and leading by example, the financial sector can help to promote the growth of sustainable investing and support companies and projects that prioritize ESG and sustainable impact (Integrated Thinking).
WINNING IN TURBULENT TIMES
Prof. Rodria Laline @ 2023 Executive Development Programs in Africa
Dr Alim Abubakre, Chair TEXEM at Wheatbaker Hotel, Lagos, Nigeria:
At a challenging time like this due to inflation, social unrest and the economic recession organizations want leaders who can inspire the implementation of practical strategic insights, effective navigation of uncertainties, and achieve sustainable success in the face of volatilities. With the nation experiencing problems of inflation, high level of insecurity, low national cohesion, dramatic forex fluctuations, negative growth, dwindling government and business revenue, low morale of staff and the citizen, and diminishing productivity, this is a time for strategic leadership.
TRANSFORMATIONAL LEADERSHIP TO ADDRESS SYSTEMIC CHANGE
Prof. Rodria Laline @ 2023 Wittenborg University of Applied Sciences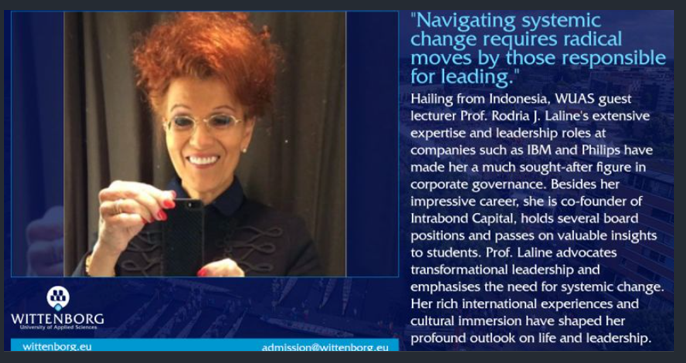 She emphasizes the need for radical change in leadership to address systemic challenges. She emphasizes the importance of shifting from vertical hierarchies to horizontal trust relationships and encourages leaders to adopt a transformative "Mindshift". Her global experiences have enriched her perspective and deepened her appreciation of diversity and her insights guide students in navigating complex managerial dilemmas.
GLOBALIZATION AND DECOUPLING. THE GEOPOLITAL IMPACT
Prof. Rodria Laline @ 2022 Invited speaker at INSEAD Alumni Forum Americas, NYC.
Even with all the global geopolitical tensions businesses are not broadly retreating from foreign markets. FDI flows remain below historical peak levels. Most types of international flows are at or near all-time highs. Although data on international flows do show a broad pattern of decoupling between the U.S. and China, the extent of U.S.-China decoupling should not be overstated.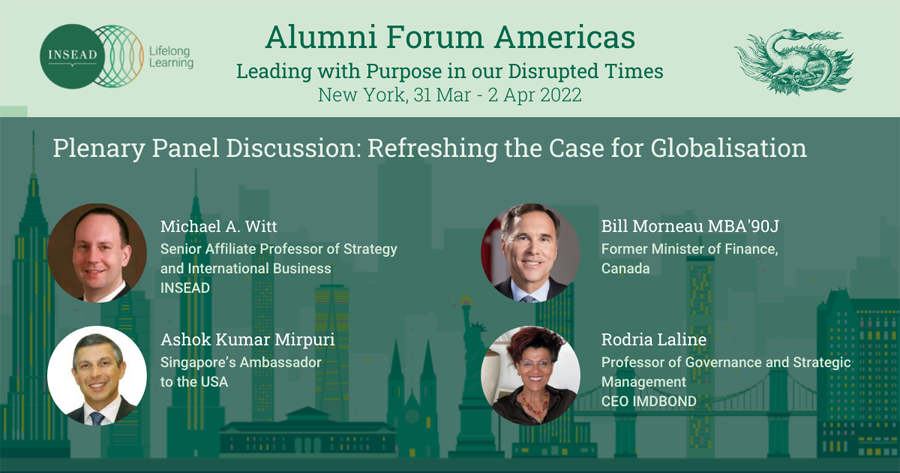 CONTEXTUAL REALITIES FACING ORGANIZATIONS IN EMERGING COUNTRIES
Strategic Leadership For Success In Volatile Times. UK's pre-eminent consulting firm focusing on Africa.
Challenges that organizations in emerging countries presently face include the unprecedented worldwide pandemic occasioned by the novel coronavirus that has affected every country on earth, high level of insecurity and high level of inflation. Some more include supply chain disruption, new cybersecurity threats, failing organizational models, and how to inspire a remote workforce effectively. The others are low national cohesion, dramatic forex fluctuations, low or negative GDP and, by extension, low customer demand, dwindling government and business revenue, higher costs, low morale of staff and the citizen, and diminishing productivity. Additional challenges include the high level of talent management, political unrest, upcoming elections in 2023 and likely changes in monetary and fiscal policies. "These Executive Minds" is one of the UK's pre-eminent consulting firms focusing on Africa with leadership and innovation programs in Africa and elsewhere, equipping leaders with requisite insights on how to thrive despite the challenging operating context.

VVAO, KNOWLEDGE NETWORK OF WOMEN WITH AN ACADEMIC BACKGROUND
Speaker at VVAO, November 12, 2022.
The VVAO takes its empowered women and board members on a journey of culture, organizational styles, decision-making and the changing role of leaders in uncertain times. Given the current geopolitical and socio-economic situation for all organizations, including small or medium-sized local, non-profit organizations, a good strategy is needed to position themselves effectively and obtain the best outcome within the limits of what is feasible and with a good social foundation. These are strategies that help an organization grow through an effective culture and decision-making and inspiring new ideas that add value.

DIGITAL TRANSFORMATION DEVELOPMENTS AT PORT OF ROTTERDAM
Exploring opportunities on digital twins and big data AI analytics technology for the Port of Rotterdam; the virtual representation of real-world physical port assets and systems which are continuously updated to deliver goods with unmanned vehicles and barges. A strategic view on global developments, global supply chains and partnerships incl. those on the upcoming 'interoperable, persistent, spatial, decentralized, permission-less, community-driven, open' Web3'Internet platform and business ecosystems.

DATA-DRIVEN DECISION MAKING FOR EFFECTIVE ACHIEVEMENT OF ORGANIZATIONAL GOALS
Professor at the international executive programs in Africa. Lectures in Paris France, London UK, NYC U.S., South-Africa and Lagos Nigeria. Annual high performance board programs in which central banks, the national deposit insurance organizations, institutional investors, media channels, national banks and top entrepreneurs are participating.

ICONOMIC AGENCY / ICONOMIC ACADEMY
From branding to luxury events, talent scouting to helping entrepreneurs & brands attain the highest state of excellence and become iconomic. The company is affiliated with Elite Fashion Models and Elite Model Look in New York.

BRILLIANT LADIES BUSINESS CLUB
By-invitation only networking society of dynamic, strong, incredible women who are thought leaders in their various professions.

HORASIS EXTRAORDINARY MEETING 2021. Getting the U.S. Economy Working Again
Invited to speak at Horasis' panel Getting the US Economy Working Again. Horasis 2nd digital Extraordinary Meeting on the 18st of March 2021. The meeting brings together heads of state, prime ministers and other government representatives as well as CEOs and entrepreneurs from around the world.

HORASIS EXTRAORDINARY MEETING 2020.Unite. Inspire. Create
Invited to speak at Horasis' panel Covid Pandemic and the Force of Impact Investing. Horasis first digital Extraordinary Meeting on the of 1st October 2020. The meeting brings together heads of state, prime ministers and other government representatives as well as CEOs and entrepreneurs from around the world.

AMSTERDAM SCHOOL OF REAL ESTATE, MASTER OF REAL ESTATE- ASRE MRE
For more than 30 years the Amsterdam School of Real Estate (ASRE) has been the academic institute for real estate science; a curriculum for professionals to meet and exchange knowledge. The ASRE aims to professionalize the field of real estate science. The ASRE MRE curriculum combines integral real estate knowledge with key developments in strategic management, board governance and steward leadership.

MAXIMIZE YOUR BOARD'S POTENTIAL 2020, 10th EDITION AT HARVARD
In this 4-day executive seminar you gain deep insight into dealing with issues that many companies face. Inspiring case studies, involving topics like decision-making, evaluating options, value creation, shareholder activism, behavior under pressure. All have practical application in the boardroom.

CHAIRMAN'S CLUB, BURGAN BANK, ACICO, AND VARIOUS OTHER ENTERPRISES IN KUWAIT
Many challenges for boards to work in an environment in which the key priority is to build national consensus around equitable and well-sequenced reforms to promote the private sector, improve the quality of public services and to strengthen governance. KIPCO, Burgan Bank, NBK, ACICO, ABK, ZAIN, AlGhanim, AlGhanam and many others undertake the needed initiatives to lead private sector growth. Grateful for the opportunity to coach and assist the boards in Kuwait in their governance and strategic management challenges.

STRATEGIES FOR POSITIVE CHANGE AND VALUE OPTIMIZATION
Lagos, Nigeria / Dubai, UAE Middle East
Executive education programmes for directors and senior managers across the private and public sectors in Africa. Design and delivery of programmes are based on research which reflects the nuances of African organisations. Programmes also integrate global contextual challenges and opportunities and how they affect Africa. Winning requires participating organizations - CBN, NDIC, PENOP, Access Bank, Institutional Investors, and many more - to embrace various dimensions.

INSPIRING PROGRAMS
Intrabond Capital accepted invitations from the Alumni group of IMD, the creative leadership team at THNK, the Runway Program management at Scale Up Nation, HCC, and more. HCC supports housing associations in the Netherlands in strategy challenges, ICT systemen, information management systems and the transformation of the organization.

ALLIANCE PARTNERSHIPS BOOKING.COM
Netherlands, Amsterdam, December 2018 Invited by booking.com to speak at the company's alliance partnership meeting in Amsterdam

ACADEMY OF MANAGEMENT
Israel, Tel Aviv, December 2018 The team at Scale Up Nation invited to be at the AOM meeting entitled From Start-up to Scale-up Strategies: Coping with Organizational Challenges in a Volatile Business Environment.

HORASIS GLOBAL MEETING, INVITED SPEAKER ON CAPITAL MARKETS
Portugal, Cascais, May 5-8, 2018
Capital markets are complex, mediated by computers, fast moving and global. The Basel III Accords followed G20 member's inspirational vision, yet US Regulators now wish to dismantle the Dodd-Frank Act and the Volker Rule - how will capital markets respond? Will this create uncertainty or inspire a more open market for investors and innovation? Under the patronage of the President of the Republic of Portugal. Chaired by Brian Caplen, Editor, The Banker, United Kingdom.

VAN LANSCHOT FINANCIAL INSTITUTION
Scaling Up The Family Business Amsterdam, Netherlands. October 4, 2017. Upcoming: Amsterdam, October 3, 2018.
Discover new opportunities, envision an enterprise concept, leverage collective force, and drive breakthrough change". Entrepreneurial leadership initiatives supporting the bank's clients in the age of cybersecurity, new business ecosystems, digital transformation and global social responsibility.

FMO - THE ENTREPRENEURIAL DEVELOPMENT BANK DIRECTOR'S ROUNDTABLE
Amsterdam, November 16-17, 2017
PART 1 - From start-up to sustainable growth: Shaping the Fintech ecosystem. High-level overview of recent developments of financial services applications offering opportunities to reduce risk, capital and costs in regulated markets. Innovation in cryptocurrency, blockchain and the deployment of smart contracts in "single sources of truth" environments will be highlighted.
PART 2 - Board leadership in the Fintech world: creating a community of the willing and the able. Leading at board level at the growth curve of a start-up to scale-up is not about creating and selling a vision to people and then somehow inspiring them to execute it. It is about creating a community "willing" and "able" to generate new ideas and about boards understanding "openness" while pivoting through the four governance and leadership quadrants.

CENTRAL BANK OF THE NETHERLANDS, DNB 2016-2017
Series of modules on key topics of board and corporate governance

GOVERNANCE DAILY
Training for board directors. Understand Corporate Governance. Launching new programs.

SCALE UP NATION 2016
Board Governance modules to empower entrepreneurs through the transition from starting up to rapidly scaling their 3P (people, planet, profit) enterprises.

THNK, AMSTERDAM 2016
Board Governance modules at the School of Creative Leadership. THINK designs and facilitates transformational in-person learning experiences to train and support global leaders to develop the mindset, skill sets and toolsets needed to scale their impact on the world's biggest challenges.

EFFECTIVE BOARD GOVERNANCE IN VOLATILE TIMES
Lagos, Nigeria, Nov 15-16, 2017
TEXEM: "In the wake of the current economic situation in Nigeria, there has been a greater focus on the boardroom and increased pressure on board members and other top executes. These changes alongside scrutiny from shareholders, regulators, and other stakeholders, since the economic recession that started in Q2, 2016 have made the job of the board more challenging than ever [Faculty: Rodria Laline]".

BUILDING INNOVATIVE ORGANIZATIONS FOR SUSTAINABLE COMPETITIVE ADVANTAGE
Lagos, Nigeria, July 26-27 2017. Business publication in 'This Day', Nigeria: "Considering the current difficult economic situation in Nigeria, organizations need to urgently develop strategies that will position them for superior competitive advantage. Therefore, initiatives that help organizations to stimulate growth by inspiring innovation for superior value creation are very critical".

STRATEGIC LEADERSHIP - RISK MANAGEMENT AND EFFECTIVE GOVERNANCE IN A RECESSION
TEXEM: "Executive Master Class program 'Strategic Leadership, Risk Management and Effective Governance in a Recession' assist executives to change their cognitive orientation in the areas of strategic leadership, enterprise risk management and economic governance so as to build economic stability in times of recession and beyond.

BEYOND SURVIVAL - DEVELOPING WINNING STRATEGIES IN TURBULENT TIMES PUBLIC AND PRIVATE SECTOR PERSPECTIVES
Lagos, Nigeria, August 11, 2016. TEXEM: "In Africa, with the drop in the price of commodities and the increasingly challenging operating contexts characterized by high cost of operations, challenging regulatory landscape and dwindling revenue streams, there is a profound need for organizations to lead change more effectively, formulate a strategy for superior value creation, enhance the quality of decision making and drive innovation so as to achieve their objectives.

HORASIS GLOBAL MEETING AND THE GLOBAL ECONOMIC FORUM
United Kingdom, JUN 13-15 2016
Entrepreneurship, innovation and economic growth: a truly global gathering of international reach and significance with Prime Minister of the United Kingdom, David Cameron. The world economy changes at an unprecedented pace because of hyper-connectivity and external shocks. What are the risks and opportunities at the top of the global economic agenda in 2016-2017? Rodria Laline invited to speak at the Global Economic Forum 2016 and the Advancing Leadership panel chaired by Saïd Business School, University of Oxford.
INSEAD International Directors Forum
Fontainebleau, Paris, France, 2015
Rodria Laline invited professor at INSEAD's International Directors Forum (IDF). International Directors Forum was created to allow a select group of chairmen, board members and active owners to exchange views and share experiences on the changing context of corporate governance and on the challenge of making their boards more responsive and effective.
FCN FORUM AT ABU DHABI AND DUBAI
Dubai, July 22, 2015
Dubai sits at the crossroads of retail splendour and tradition – a growing entrepreneurial oasis of luxury that bridges East and West. On November 4, 2015 Intrabond and FCN provide a forum in Dubai, to provide participating FCN members new insights for their boards. Business model innovation in the real property sector and funds industry and business cases presented, will illustratee new leadership in this changing world.
[Dubai, July 22, 2015]
FCN ENTREPRENEURIAL LEADERSHIP SUMMIT, Harvard Faculty Club, May 31, 2015.
Founders Carbon Network Trade Mission to New York and Boston
Harvard Business School professor John Davis (Families in business), Decision Group professor Fred van Eenennaam (Strategic scenario analysis) and Rodria Laline (Corporate governance and board dynamics) welcomed FCN participating members at the Harvard Faculty Club. The group of entrepreneurs received the fCN BE Certificate: 'Baron of Entrepreneurship'.
INTRABOND CAPITAL SUPPORTING GLOBAL PROGRAMS AT THNK
THNK is the leading international school of creative leadership. The THNK creative leadership program is an executive education program for creative leaders who want to realize their full potential and bring significant ideas to market. THNK is not a Business School or a Design School. THNK takes a different approach to leadership, creativity & innovation.
[Amsterdam, February 23, 2015]
HARVARD FACULTY CLUB, June 1-4, 2015. The 5th Annual and 1st Lustrum
Maximize Your Board's Potential Board Program
This four-day executive seminar experience will help maximize your contribution to corporate boards and strengthen overall board effectiveness.
ASRE - Amsterdam School of Real Estate
Amsterdam, September 23, 2014
Academic faculty of the Master of Real Estate MRE 2014-2016 Program of the Amsterdam School of Real Estate
Intrabond Capital founder and CEO Rodria Laline joins the MRE academic staff of ASRE, the Amsterdam School of Real Estate. ASRE is a joint initiative of the Dutch real estate industry, the Dutch national government and the University of Amsterdam (UvA). RE developers, RE agents, institutional investors, the Dutch government and the UVA joined forces in 1989 to expand and professionalize the expertise in the field of real estate.
New Board Governance Program Launched at the Harvard Faculty Club
AMSTERDAM--(BUSINESS WIRE)-- Intrabond Capital (Prof. Rodria Laline) and The Decision Institute (Prof. dr. Fred van Eenennaam) have joined forces with leading Harvard Business School professors Jay Lorsch and Krishna Palepu to once again organize a 4-day 'Maximize Your Board's Potential' seminar on new board governance and leadership, addressing key challenges and tools in new board governance. As the European Commission further develops its policy toward director's roles and responsibilities, the goal to provide a better understanding of board dynamics becomes more significant. The 'Maximize Your Board's Potential' program at the Harvard Faculty Club on October 6-9, 2014 takes a deep dive into the many facets and factors controlling the drivers of directors' behavior over a company's lifecycle of organizational and cultural change.
[Amsterdam, July 16, 2014]
Intrabond Director Dr. Donna Hamlin at Board Prospects' Board University
Board University is the e-learning module designed to improve corporate governance through online education. Introduction to its 1st course Board Service provides a valuable overview of what it means to be a board member as well as the essential information necessary to excel in board service. Introduction to Board Service is taught by corporate governance expert, Dr. Donna Hamlin of Intrabond Capital, and includes insightful commentary from board members of Microsoft, General Motors, and Hewlett-Packard. The seminar is pre-recorded and is a 1 hour and 20-minute course at one's convenience. The registration fee for Introduction to Board Service is $99, but Board Prospects is providing an exclusive introductory offer of $75. Individuals who successfully complete Introduction to Board Service will receive a badge on their Board Prospects Profile – further distinguishing themselves to Board Prospects Corporate Members who are seeking exceptional individuals for board opportunities.
[Amsterdam, July 15, 2014]
Intrabond Governing Style OSI Portfolio at Erasmus School of Accounting and Assurance
Another excited step forward in taking Intrabond assessment and coaching tool into the boardroom. In the Masterclass on Boardroom Dynamics and Board Evaluations Intrabond will share its OSI individual and team governing style assessment instrument with MC participants of the ESAA Erasmus University School of Accounting and Assurance in the Netherlands. In addition to Intrabond BBF board bona fide tool for those who prefer to be on a global board registry, Intrabond offers an OSI organizational style indicator. In creating value through effective teams and boards the OSI governing style team and individual reports have been successfully applied. Interest in participating in an on-line individual governing style assessment can be expressed by filling-in the "Get in Touch" form at Intrabond Contacts Webpage.
[Amsterdam, May 28, 2014]
Announcing Affiliate Partnership with Boardprospects.com
Intrabond Capital U.S., Inc. is excited to announce its agreement to become an exclusive Affinity Partnership with BoardProspects.com. This online boardroom community provides board members, prospective board members and corporations (public, private and non-profit) a deep means to connect with one another and share the latest in boardroom news, education, best practices and board recruitment opportunities.
[Amsterdam, April 15, 2014]
The Management School and University of Maastricht Partnerships in South Africa and South America
Intrabond Capital adds governance and leadership programs to the partnership of MSM/UM. An unparalleled perspective for real professionalization. To be effective in leading fast-growing companies and family businesses, (non-)executive teams must confront a sometimes-bewildering array of internal and external challenges, all of which are heightened during times of crisis. Now, more than ever, the goal is to improve boardroom dynamics in entrepreneurial boards and increase team effectiveness - professionalizing boards so that they are truly able to create and add value.
[Amsterdam, March 20, 2014]
Leadership 2014, Nigeria
Stratex Pro CEO Dr. Akpata and business partner Prof. Pat Utomi - co-founder of the Lagos Business School - institutionalize the education in Nigeria for the multiple industry and business sectors. The relationship with Intrabond is strengthened through the partnership.
[Abuja, Nigeria, February 15, 2014]
Economic Mission to Indonesia headed by the Dutch Prime-Minister Mark Rutte
Intrabond Capital member of the Dutch economic mission to Indonesia.
[Jakarta, November 19-22, 2013]
Intrabond at Horasis China Global Business Meeting
The Hague, November 10-11, 2013
Horasis partnerships with corporations such as Intrabond create a powerful platform for cooperation between emerging and developed markets. Horasis Annual Meeting as well as regional summits focus on China, India, Russia and the Arab world. The Horasis meetings are held in the recognition that growth strategies require leadership and engages corporations from around the world to make vital adjustments today to begin preparing for the future.
ABB (ASEA BROWN BOVERI) and Intrabond Capital in Global Supply Chain Leadership
Power, automation and robotics engineering company ABB based in Zurich Switzerland and Intrabond Asia Holdings, have joined efforts to accelerate ABB's global supply chain leadership excellence in the U.S., Canada, Europe, China and Asia. ABB has operations in over 100 countries worldwide and employs over 110,000 people. In high speed rail and high voltage transmission technologies ABB provides a sustainable and innovative products and solutions portfolio to the global demand and supply in China.
[Amsterdam, November 1, 2013]
KEY TOPICS AND CHALLENGES IN CORPORATE AND PUBLIC GOVERNANCE
The Rembrandt Tower Boardroom organization hosted the pre-event of the University of Amsterdam board of director's program " The Next Governance Convergence". Prof. Alexander Rinnnooy Kan presented the invited board directors some insight on the new challenges in governance in the Netherlands. Prof. Rodria Laline summarized one of the key topics in the program - The Globalization Paradox: The Trilemma of the World Economy by Prof. Dani Rodrik - and reviewed the agenda of the board program.
[Amsterdam, July 1, 2013]
The HARVARD Faculty Club, October 6-9, 2014.
4th annual cycle of the Maximize Your Board's Potential (MYBP)
Harvard Business School professors Jay Lorsch and Krishna Palepu
Maximize Your Board's Potential addresses virtually all-important board governance topics, bringing together international colleagues together to meet and demystify these complex governance issues. The curriculum is based on the Case Method, which provides a stimulating mix of real-life situations, group work and personal reflection. It is an extraordinary opportunity to apply knowledge and expertise in a dynamic and changing environment. It is the opportunity to stay ahead of the curve when it comes to the intricacies and excitement of board involvement and commitment.
[Cambridge, June 25, 2013]
CEO of Intrabond Capital U.S., Inc. speaking in Hong Kong
Community Business and Standard Chartered workshop on Corporate Diversity and the Board
Around the globe, governments, regulators, stakeholder and shareholder interest groups are exploring what actions will help to wisely leverage the full value of diversity for overall success. The workshop provides practical guidance, tools and tactics to implement sustainable and successful change within your boards. The program is offered by Community Business, in conjunction with Intrabond Capital, a leader in guidance in global governance practices.
[Hong Kong, June 21, 2013]
Rodria Laline visiting professor Erasmus School of Accounting and Assurance
Boardroom Dynamics and Boardroom Evaluation Executive Masterclass
Following the successful Erasmus ESAA series of "the Brain in the Boardroom" with prof. Frans van der Merché is the new masterclass on board dynamics. Both executive masterclass focused programs are directed toward functional behavior-based boards.
[Hooge Vuursche, June 10-11, 2013]
Asea Brown Boveri ABB initiates a global cross-cultural professional and leadership development program with Intrabond Holdings Asia Ltd.
The cross-cultural professional and leadership development program involves Intrabond and ABB's locations worldwide. In addition, Intrabond provides its Organizational Style Indicator toolkit to keep teams in dynamic, high-growth companies current and to manage team dynamics across multiple countries; a great way to endorse personal commitment to personal team proficiency and advanced professionalism.
[Zurich, May 14, 2013]
Amsterdam School of Governance and Real Estate ASRE
invites Intrabond Capital to lecture in its board masterclass
The real estate sector surfaced multiple issues on ethics and ethical dilemmas broadly published in the media. The board oversight, trust and risk management were challenged. In this program board directors can learn from seasoned, expert public company directors with knowledge and experience to keep directors in dynamic, high-growth companies current.
[Amsterdam May 23, 2013]
The Next Governance Convergence
Directors Program of the University of Amsterdam. Program Director: Rodria Laline.
This event will be held at the University of Amsterdam on October 15-18, 2013.
How should we address fundamental governance change? The increasing interconnectedness of the global economy and financial system is starting to outpace governance, which is still dominated by nation states. These nation states, along with globalization and democracy, form a political trilemma when it comes to the world economy. One thing is clear – global governance is about to undergo fundamental change, and it is going to be felt in the boardroom. A strategic approach based on real-world situations. The faculty of economics and business of the University of Amsterdam – in collaboration with the world's leading research-intensive universities – has designed this comprehensive four-day program.
[Amsterdam, February 28, 2013]
Dr. Donna Hamlin, CEO of Intrabond Capital U.S., Inc. speaking at the Healthy Money Summit
A healthy economy, healthy habits and healthy attitudes toward money are possible. The speakers in the Healthy Money Summit series reveal their latest insights and wisdom on how it is possible. Nothing could be more important than awakening people from the old economy, liberating hope and igniting the courage to change both yourself and the rules of the game.
[San Francisco, November 7-9, 2012]
Speaking at Bank Negara Malaysia Financial Industry Directors Education (FIDE) on Corporate Governance
"A great opportunity to interact with board directors at Bank Negara Malaysia FIDE board program" said professor Rodria Laline in accepting the invitation to speak at FIDE. The FIDE Program was designed to take into consideration today's challenging environment to achieve effective board governance in financial institutions. John Zinkin, Gillian Ng, Rajeev Peshawaria and the FIDE team have done excellent work in moving FIDE forward. The role of directors in financial institutions has become increasingly challenging in today's operating environment.
[Kuala Lumpur, Malaysia, October 20-November 1, 2012]
Rodria J. Laline at Corporate Governance Roundtable of kadin
the Indonesian Chamber of Commerce and Industry (KADIN)
KADIN 's Corporate Governance Roundtable in the Four Seasons and the hosted reception at the Ritz Carlton were great places to interact with board directors of Indonesian corporates. Joining the roundtable are CEOs, NEDs and board directors, incl. those from Garuda Indonesia, Ancora Capital, Bank Mandiri, Bank Negara Indonesia, Bakri, Bank DBS Indonesia, Philips Indonesia, INA, AmCham Indonesia, FCGI, Essar Steel, and Lippo Group. Professor Laline also joined the Institutional Investors Summit at the Four Seasons and interacted with directors of Garuda Indonesia at the formal BOC-BOD meeting in Jakarta.
[Jakarta, September 18, 2012; KADIN BSD Bulletin issue 36]
University of Amsterdam appoints Rodria Laline to Assistant Professor
the Faculty of Economics and Business.
On the cards are new governance, new structures, new technologies, new incentive and new value systems that will enable boards to navigate through unchartered territories in the global worlds of asymmetry and conflict. In designing a new board program for the University of Amsterdam professor Rodria J. Laline will focus on economic growth agenda's and in parallel the sustainability of balance-sheet connections deepening the boards understanding of new global governance and political environments which have an impact on the corporate board agenda.
[University of Amsterdam, September 01, 2012]
IESE Business School, Intrabond Capital and Decision Institute
THE European Edition of MYBP
IESE Business School, Intrabond Capital and the Decision Group join forces to address key challenges for corporate boards in Europe. Successful "Maximize Your Board's Potential" seminar at Harvard Faculty Club presents its European edition with IESE Business School. A well written article appeared in the April-June 2013 IESE Alumni Magazine about the key topics in the Maximize Your Board's Potential (MYBP) board program.
Read the full article and join the next MYBP board program at Harvard Faculty Club.
[IESE Business School, June 01, 2012]
Intrabond Capital U.S. Corporation Supports the New Malaysia Diversity Agenda
Intrabond Capital Corporation is pleased to provide its board candidate assessment tools to support the Malaysian Cabinet's recent legislation stating corporate companies must achieve at least 30% representation of women in decision-making board and senior corporate executive positions. See also the Malaysian LeadWomen and Women on Boards website
[Intrabond Capital Newsletter, January 2012]
"Maximize Your Board's Potential"
The 2nd executive seminar on corporate governance for board directors, Harvard Faculty Club, Boston January 23-26, 2012.
Intrabond Capital invited guest to the 10th Morgan Stanley Asia Pacific Summit
Rodria Laline has been invited to the 10th Anniversary of this event that over the past decade has established its place among the leading investor conferences in the region. The event was held in Singapore.
[November 15-17, 2011]
China Connecting Conversations, Zurich Switzerland
Intrabond Capital Rodria Laline invited to the CEIBS launch of the first-ever Executive Seminar in Europe delivered by CEIBS President and Professor of Entrepreneurship Pedro Nueno, Professor of Economics Wang Jianmao, Adjunct Professor of Management Nandani Lynton and Professor of Management George Yip.
[CEIBS, September 23-24, 2011]
The Global CEO Conference in Shanghai
Intrabond Capital Corporation on Corporate Governance 3.0. Presentation and moderation by Dr. Donna Hamlin, CEO Intrabond Capital U.S. Inc.
[CIFAL China, September 15-17, 2011]
Standish BNY Mellon "Institutional Investors Forum" in Boston
Dr. Rodria Laline on Corporate Governance - its importance in today's corporate world.
[Standish BNY Mellon, September 14-15, 2011]
Discover your ideal fit as a director
Learn how to differentiate yourself and land a role. Don Townsend.
[Intrabond Capital, June 30, 2011]
1st China symposium on corporate governance and the growing role of women in business leadership
Presentation Dr. Donna Hamlin, CEO Intrabond Capital U.S. Inc.
[Public Affairs Section, United States Embassy, Beijing, June 3, 2011]
CIFAL Shanghai the opening of the China Center for Corporate Governance
A cooperative effort among CIFAL Shanghai and Intrabond Capital U.S., Inc., with the support of the Shanghai Credit Services Trade Association.
[Reuters, May 26, 2011]
Institutional Investor "Emerging Markets Investment Summit"
The Hilton Hotel, Amsterdam. "Incorporating ESG Factors into Emerging Markets Investments", moderated by Dr. Rodria Laline Chair Intrabond Capital Corporation.
[Institutional Investors Organization, May 18, 2011]
Intrabond Capital U.S. Inc. establishes First Global Registry of Corporate Directors: Board Bona Fide
[Press release, February 15, 2011]
Intrabond Capital U.S. Inc. supports the new Watermark Institute Board Access™ Program

Press release, December 7, 2010]
Intrabond Capital U.S. Inc. and Shanghai International Training Center for Economy and Information to provide governance support

UNITAR, UNITED NATION Institute for training and research

[Press release, December 7 2010]

SEC disclosure rules on board of director diversity
[Dr. Donna Hamlin, CEO Intrabond Capital U.S., Inc. at the American Bar Association Annual Meeting, August 6, 2010]
Engaging the board of directors on strategy
INTRABOND CAPITAL ON BOARD DYNAMICS
Download the brochure

In the Dutch language:
Hedendaagse Schutters in de Amsterdams Hermitage
Op 27 januari 2016 werden de Burgergroepsportretten onthuld die in 2015 zijn gemaakt tijdens de Regenten- en Schuttersontbijten. Paul Spies, voormalig directeur Amsterdam Museum, onthulde de stukken en stelde tevens de nieuwe directrice, Judikje Kiers, voor. Na een prachtig selfie-moment tijdens de onthulling kon men de Burgergroepsportretten bespreken en naar hartenlust netwerken.
Heb ik macht, invloed, charisma, en inhoud genoeg?
Je vraagt je vaak af of we het zwaartepunt van macht en invloed in de context van governance en leiderschap eigenlijk wel op de goede plaats leggen? De wereld verandert. Gaan we voor een kleiner Europa. Het Europa waar je met een kleine groep landen een sterke basis hebt om in samenwerking een hoger "level playing field" te creëren waarvandaan je dan uit sterkte werkt: "Play The Level Playing Field".
Column geplaatst in FCN [FCN 28 August 2014]
International Monetary Fund 2013
IMF onderschatte de mate van herstel in 2010, en overschatte de groei in de jaren er na. Zorgen over de wereldeconomie blijven aanhouden. Economisch vooruitzicht in de Eurozone blijft somber en ook de groei in BRIC-landen is middelmatig. Op internationaal niveau moddert de politiek voorlopig door met een "Mudde through" strategie, een financieel deflatoir en niet geloofwaardig institutioneel governance raamwerk van beleid, regulering en toezicht van zwakke internationale instituties.
[September 28, 2013)

"MAXIMIZE YOUR BOARD'S POTENTIAL PROGRAM AT HARVARD FACULTY CLUB
In 2013 is nu de 3de cyclus van het MYBP in de Harvard Faculty Club. Ook de IESE Business School heeft het MYBP programma in haar Executive Education 2013 portfolio opgenomen [NKCC 29 April 2012]
valuatie van de raad van commissarissen
[Rodria Laline, Donna Hamlin, DLA Piper, De Commissaris No.24 December 2010]
Corporate Governance in Internationaal Perspectief
[Rodria Laline, Fred van Eenennaam, DLA Piper, De Commissaris No.13 December 2011]
Kwantumfysica van het gedrag en leiderschap IN de 21ste eeuw
Rodria Laline, Personal Blog, December 28 2010
Onafhankelijkheid en zelfevaluatie in de RvC
[Rodria Laline, Personal Blog, November 17, 2010]
Gedragsaspecten commissaris worden belangrijker
[Rodria Laline, Intrabond Capital in CFO Magazine, July 20 2010]
Internationaal leiderschap na de crisis
[Rodria Laline, Intrabond Capital i.o.v. The Hay Group, April 12 2010]
Dynamiek, effectiviteit en leiderschap in de RvC
[Rodria Laline, Intrabond Capital i.o.v. PwC Boardroom Professional Development 2009-2010